North to Alaska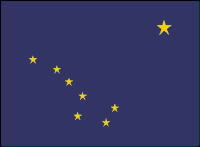 You are listening to the music of Alaska's state song while reading this page. The words and music are
available online
and are about the state flag shown above.
(I don't know the words and didn't even know we had a song unil a few years ago!)
Intro to Alaska

Alaska is a massive state, covering 586,412 square miles and many distinct environments. From the coniferous rain forests of the south, to the vast taiga forests of the interior, to the coastal plain of the Arctic Slope, Alaska varies in terrain as much as winter time day light and temperatures.


Alaska's mountain ranges, glaciers, and vast wilderness create

natural barriers to transportation. Of the 20 tallest mountains in North America, 17 are located in Alaska. Mountains, rivers and miles of 'nothing' makes flying a necessary part of every Alaskan's life. You will be hard pressed to find kids who have never flown. In 1996, one of every 58 Alaskans was a registered pilot. Our state
has about six times as many pilots and 14 times as many aircraft per capita as the rest of the States. Lake Hood, in Anchorage, is the world's largest and busiest seaplane base (a link to their web camera is available from my 'Web Cameras in Alaska' page). My Dad, a pilot before he could drive a car, flew his Stinson 108 up from Missouri just after marrying Mom. Oreos, apples and off to the Last Frontier!
Expansiveness

Alaska is one-fifth the size of the Lower 48 states, 488 times larger than Rhode Island, two and a half times larger than Texas, and larger than the next three largest states in the U.S. combined. The massive size and small population means there are large gaps of 'nothingness'. Keep this in mind if you are traveling, as there may be no services or people along your route.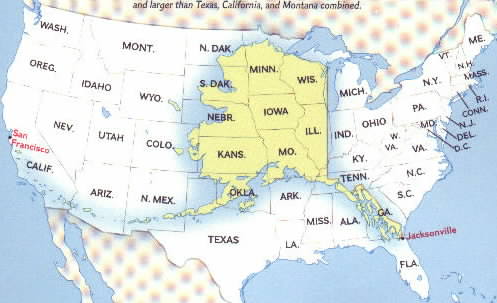 Now if you have a "Texas sized" problem, remember that it is not all that bad. Oh, yeah, for those of you from the Land of 10,000 Lakes, Alaska has more than 3 million lakes more than 20 acres in size, not that they are warm enough to swim in, however. The largest, Lake Iliamna, is a whopping 1,150 square miles, nearly the size of the Great Salt Lake in Utah. (map from the
National Geographic Society's
printed map of Alaska)
Population

Alaska's population was 622,000 as of August 2000, with nearly half of the state's residents live in Anchorage. Alaska's size allows for about 1 square mile for each person in the state. By comparison, New York has .003 square miles per person. Men out number women in Alaska. This fact, in addition to the unique demands placed on Alaskan residents by mother nature, leads to an interest in Alaskan men by women around the world. Hence "
Alaska Men Magazine
" was born. I guess it's the rugged image that once made the Wild West so wild. The most interesting phrase I have heard used to describe the chances any given woman has at finding a man in Alaska is:
"The Odds are Good, but the Goods are Odd"
Translation--Not everyone would consider many Alaskan men someone to take home to the parents....
---
Alaska's Ten Largest Communities

Anchorage (municipality) 261,446      Kodiak (city)   6,836 
Fairbanks (borough)       31,423      Kenai (city)    7,039
Juneau (city/borough)     31,262      Bethel (city)   5,449 
Ketchikan (borough)        8,295      Soldotna (city) 4,134 
Sitka (city/borough)       8,788      Wasilla (city)  5,568 


(above info from the
State of Alaska
)
For a complete listing of Alaskan communities and links, check out
ILoveAlaska.com
.
---
More Interesting Alaska

The Pacific "
Ring of Fire
" runs from South America, through California and Alaska to Japan and the South Pacific, including New Zealand. This region suffers from substantial earthquake and volcanic activity. To vicariously experience an earthquake, click on the button below!
Complete information on
earthquakes
and
volcanoes
may be obtained from the Geophysical Institute at the University of Alaska in Fairbanks. This information includes awesome pictures of the frightening 1964 earthquake which measured a whopping magnitude 9.2!! and destroyed a good portion of coastal Alaska. This quake claimed 107 Alaskan lives and swallowed $84,268,000 in damaged/destroyed property. This damage total is over 8 times the cost in California, and over 4 times the cost in CA, OR, HI, and Canada
combined
.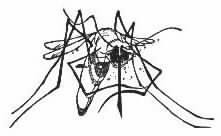 Do you want to know where
mosquitos
came from? This links to traditional Native Alaskan stories about creation and other topics. I think this is a must-have exposure for people. Many people wonder if Alaskans live in igloos and what we do with all those bothersome penguins. Firstly, the igloo is a ceremonial Eskimo hut, which never serves as a home. Closest thing you will ever find to an igloo is kids "forts" made from blocks of snow. Secondly, the penguin issue. Penguins live only in the Southern Hemisphere (i.e. Antarctica, the tip of South America). So, the only place we see them is the zoo...and right here, dancing away.