Denali National Park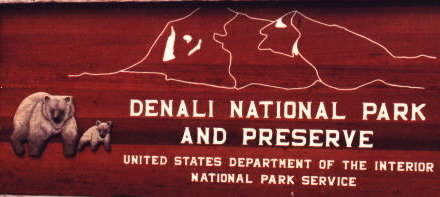 Welcome to
Denali National Park
, home of Mt. McKinley, North America's tallest peak. A quick clarification: Denali National Park
is
the home of Mount McKinley. You will see this reversed and otherwise all mixed up, however the Park's name officially changed in 1980.
For excellent pictures of the Mountain and surrounding area, I recommend the
Touch N' Go
folks. They have already done the work to collect and link to great photos. Below is one of the shots my sister has taken.

Traffic is restricted into the park, so if you want to venture in, you do so by bus, bike or on foot. This is a model that the other national parks are likely to follow to reduce unnecassary pressure on the wildlife. If you intend to camp or use bus transportation, go the the Denali Park link above for details. Demand is high and spaces are reserved well in advance. See my Alaska reference
map
.
While touring around near the park entrance, we stopped to take pictures of us on the snow patches. You would think that we were tourists! (June 9)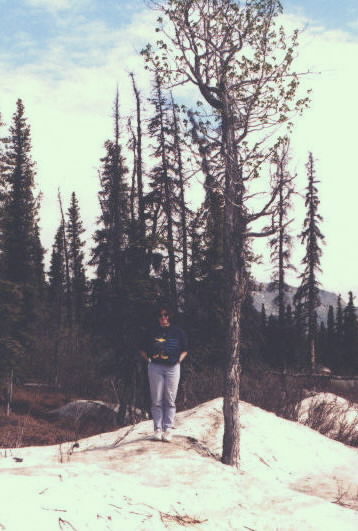 Audra shows us that Alaska is "Sooooooo BIG!" Summer hasn't quite made it to the mountains--everything is still brown. June 9, 1998.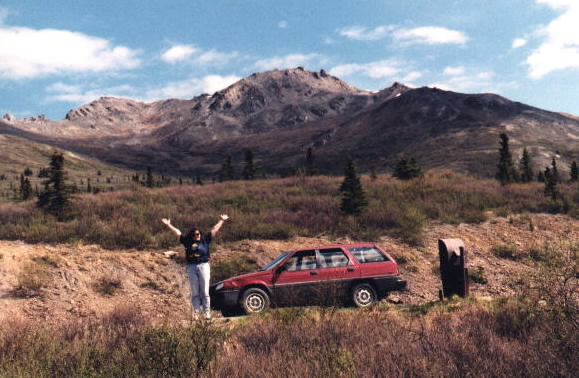 The following are panoramics taken with a cheap Kodak point and shoot Advantix camera. First, looking south over the Savage River in Denali Park...

Second, simply turned around, now looking north. Alaska is a land of extremes, and although the south facing picture (above)shows a plain, note that it is nearly above tree-line.

---
Additional information is available from the folks at
GORP
(Great Outdoor Recreation Pages). They provide interesting information, which I have not looked over carefully enough to assure accuracy.
---
more Alaska Pictures

---