Gulkana River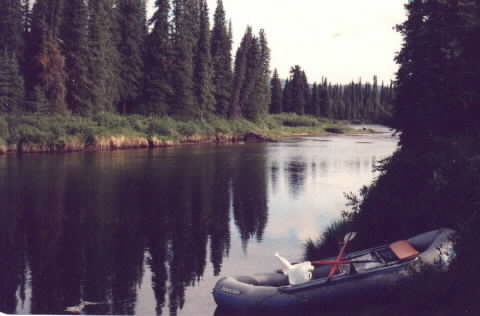 Friends and family have floated the Gulkana National Wild and Scenic River each summer since 1995. Set in the subdued, alpine terrain of the Alaska Range, the view from along the river is limited to rolling hills and the taiga forest. This is not the trip for those awe-inspiring panoramic vistas. Here is some of the beauty and activities of river life.
As you depart Paxson Lake, a reminder of the pioneers, many years ago, that accessed this land beckons the expedition forward. I hope that this land can remain as pristine 100 years from now, as it is after the first explorers made their mark.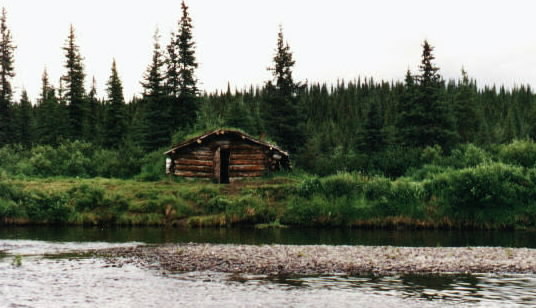 Breakfast in the morning consisted of "zip-lock" pancakes and bacon. This allowed us to premeasure, add water, shake to mix, and simply pour into the pan. Made life really easy. How many cooks do you suppose it takes....?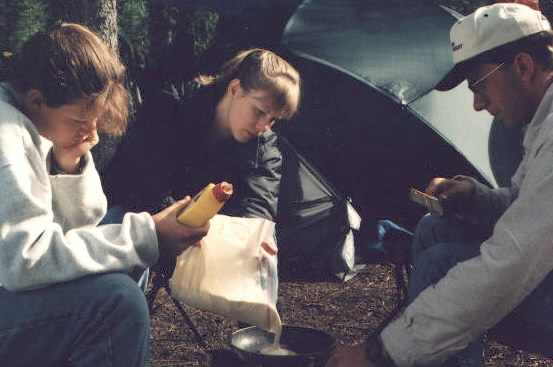 On our very first float trip we brought along a friend from Missouri. Here he poses as the best "Mr. Pancake" that ever was. (I'm fairly certain Krusteaz pancake mix isn't looking to sign him for promotions!!)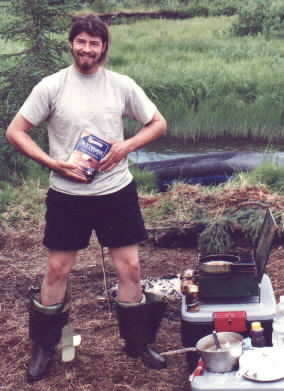 We fished the length of the river, although there were definitely hot beds of medium-sized grayling.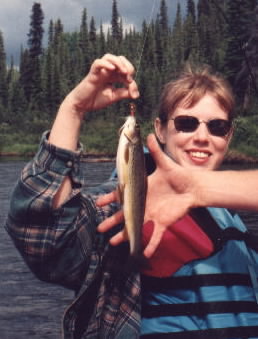 Grayling taste good when cooked in a frying pan or wrapped in tin-foil over a fire, but some folks like the Sushi-style, with a twist. Kinda like eating live goldfish, don't you think?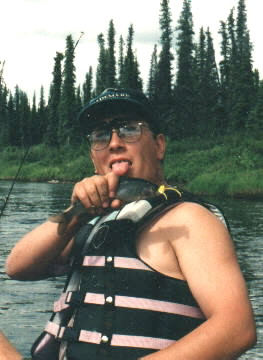 We really get excited when the BIG ones hit. Big Arctic Grayling put up quite a fight. Just ask my sister, modeling a lunker (below)....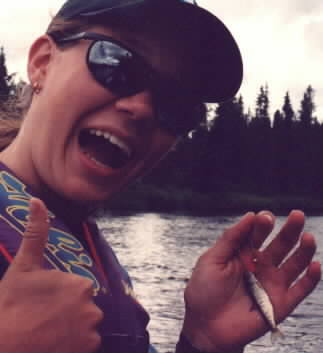 Humans aren't the only animals making short work of salmon and other fish species on the river. Eagles scavange the dead and dying salmon, and likely add a tasty duck or two to the menu.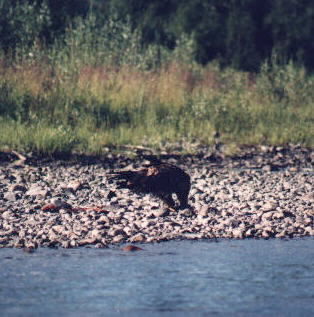 Of course just because you are an Eagle, you are not exempt from harassment. Below a sea gull dive-bombs a juvenile eagle. Lots of small birds (usually ones not on the menu) appear to love driving eagles nuts.
Next Gulkana River Page
Paddle on to the end of this journey.