Niagara Falls, Canada
Labor Day weekend, 1999. We went to the Canadian side of the falls to check out one of the wonders of the world. I have to admit, we expected the falls to be much higher. The volume of water (6 million cubic feet per minute) is impressive, but the Canadian falls is only 170 feet, and the American falls is even shorter. What is quickly obvious is that the Canadian side offers the best viewing of the falls. For
live web camera of the Canadian falls
, see the Sheraton Hotel's page.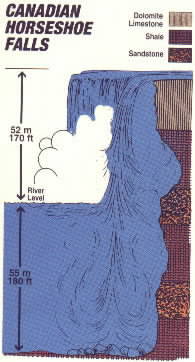 The American Falls suffer a lot of erosion and the water falls onto piles of rock rather than a deep pool.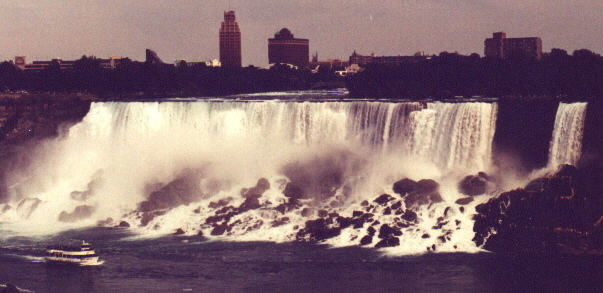 The Canadian falls is horseshoe-shaped and is more impressive than the American falls. Below is a gaggle of tourists getting wet from the fall's spray.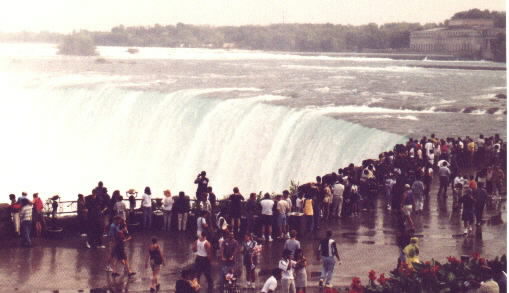 From just upstream of the Canadian falls, you escape the mist and can see the true U-shape.

Every night the falls are illuminated from the Canadian side. The colors are changed every few minutes, varying from white to red, blue and purple. Below is a shot of the Canadian falls with all red lights shining on the water.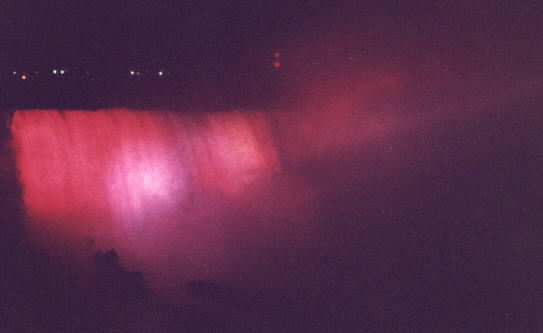 Home