Alaska's Money-Maker:
Crude Oil
On March 27,1989, the 987 foot Exxon Valdez tanker, ran aground on Bligh reef in Prince William Sound. Estimates of the oil spilled are around 11.2 million gallons of the over 53 million gallon capacity of the Valdez. Ten years later, recreational boating in the Sound has doubled. Recreational and commercial useage pressure increases every year. Since my family started fishing out of Valdez in the early 1980's, the small boat harbor has more than doubled in size, and there
still
isn't enough space. Where is Valdez? See my Alaska reference
map
.
Alyeska Pipeline Terminal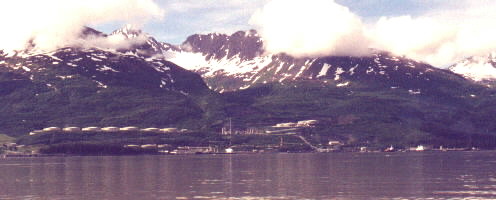 The end of the more than 800 mile
trans-Alaska pipeline
. Flow of this oil means our state has an operational budget! (Alaska depends on 85% of its money from oil revenue. Makes for an interesting mix of environmentalists and realists). Click here for
live web cam
coverage of Valdez.
Tankers on the Move

The inbound tanker (foreground, red bottom) sits high in the water while the outbound tanker (background) rides deep.
Fishing goes on...

In this picture a commercial buying ship the "Siberian Sea" moves in to take a load of salmon (probably Pinks and some Silvers) from a small purse seiner. This picture was taken in the same area as the tanker pictures above. Life after the spill goes on...no matter what the press would have us think.
A bright rainbow developed as the mist began to subside and the sun peak through. All good things in a coastal climate. If you look at the top edge of the photo, you can see the faint white appearance of fresh snow dusting the mountain tops. Just another subtle reminder that anywhere you go in Alaska, the extremes will always be present....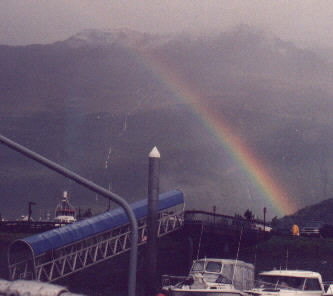 Often times, we collect glacier ice floating in Port Valdez to put in the cooler. Below we are making a move on a bergy-bit that is too large to pull into the boat and has no "wings" to break off.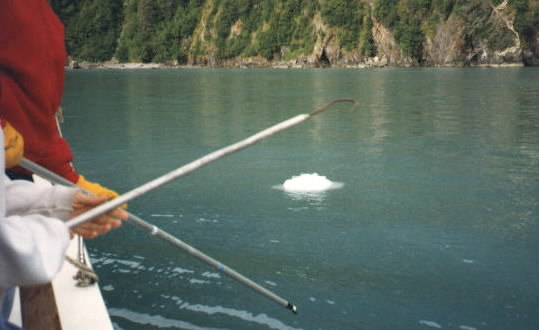 Once ice is in the cooler, we head for the fishin' hole (anywhere!). Silvers are wonderful fighting fish, often with aerial displays.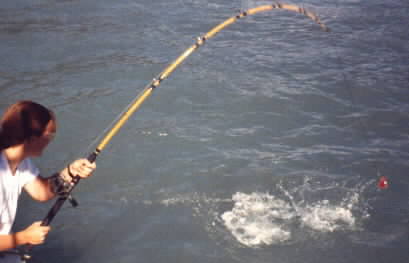 As you can see, even netting the fish and dribbling blood, scales and slime all over the place can be enourmously entertaining.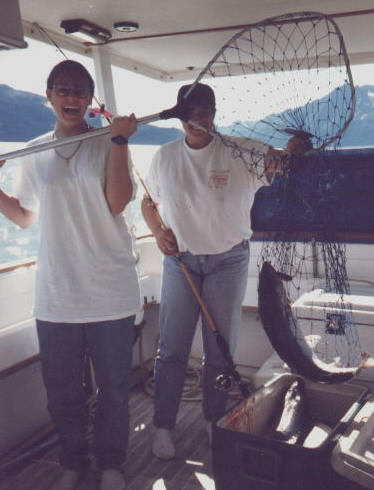 All in a days play. A mess of Silver salmon with an average weight of around 14 pounds. Man can these fish fight! Each year Alaskans stock their freezers with salmon. Those fish escaping the personal and commercial coolers and other natural perils, spawn and
die
.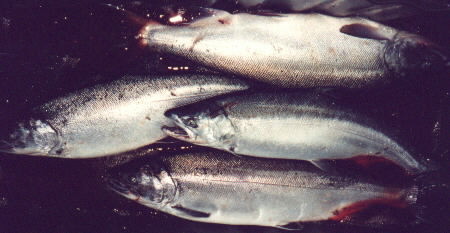 Once you get the mess of fish back, someone gets to clean them. As with most rotten jobs, a little humor helps....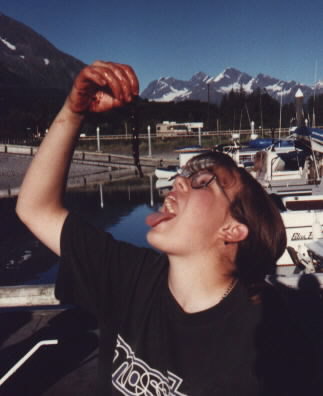 If the salmon aren't hitting, you can try some big game fishing for halibut....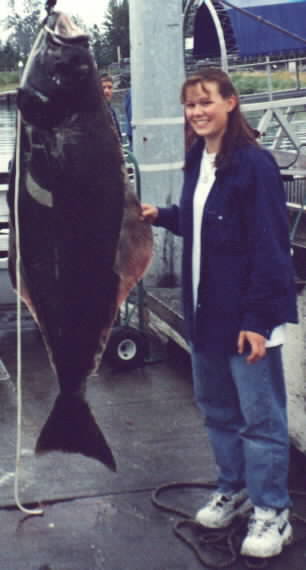 My sister always has the luck when it comes to big fish. Here she poses with her 66 inch, 160 pound halibut (yes, it was bigger than her). The all-time boat record stands at 73 inches, 178 pounds (set by Les, August, 2000). For pictures of the BIG boys, check out my
Halibut!
page if you haven't already.
Current Valdez, AK weather:
---
More Valdez pictures from the "Big Draw"
---
Index of Alaskan Pictures
Home
---